Praised Be Jesus!
I hope this post finds everyone well and that God is blessing you through the intercession of all His holy ones this week! A few weeks ago, Pope Francis got some heat after a homily he gave after the preliminary meeting for the Synod on the Family, about how God is a
God of "surprises"
, and he gave some examples of how God has surprised His people throughout history. Today, we turn to focus on one of my favorite Saints,
Saint Joan of Arc
(also the favorite Saint of my Patron Saint,
Thérèse of Lisieux
), or as I like to call her, "The Saint who was God's surprise."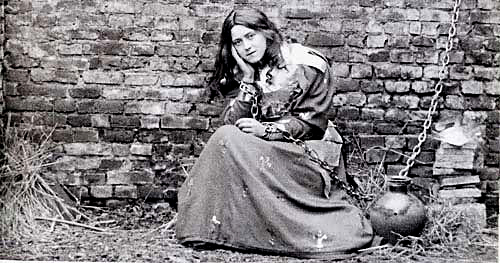 Saint Thérèse as Joan of Arc
We look at Joan of Arc's story with so much awe: the young peasant girl whom God called to save France. We've heard the story multiple times, and we forget that for Joan and her contemporaries, this was one of the most unusual things. Joan was a young girl, in a time when women did not have as much social standing as men. She was a poor girl without any formal education and the last person anyone would expect to have mystical vision, much less expected to lead an army in battle. In a way, Joan was a scandal for her time: a young woman, running around in men's clothing, leading armies and as an unmarried woman, hanging out with a whole bunch of men (the rumors must have run rampant). And to top it all, off she was excommunicated and burned at the stake by the Church she loved.
It is in Joan that we get a glimpse of the God of surprises. It is in Joan that we see how God works, that He transcends our cultural mores and our complex theologies. God is greater than all of these, no matter how thorough we think these are, God's plans are always greater, and His mystery is infinitely deep. It is He who
chooses the weak things of the world
so that no man shall boast in His sight. It is in Joan that the weak and the unexpected come to light, and God does wondrous deeds through her. Joan is a model of what it means to be humbly receptive to the Spirit and to allow the spirit to move her in God's unexpected ways. We see how this docility to the Spirit can be a source of great strength and inspiration, as it was for the army she lead, and a great threat to those in power, as in the case of those Bishops who called for her excommunication and execution. Such is the nature of mystics; they are the source of great inspiration but also it seems endless controversy, controversy that always leads to a greater knowledge and intimacy with God.
What inspires me most about Joan is that she did God's will without worrying about her surroundings, without worrying what people would think of her, and without worrying about the rules. She burned with a fire to complete God's will for her,no matter what the cost. Joan shows us that God is not bound to our own ideas and our own prejudices. As Siobhan Nash-Marshall states in her book,
Joan of Arc: A Spiritual biography
, Joan was a "quester" and saw her vocation as being ever revealed, a constant unfolding of God's will. For those of us who find ourselves in irregular situations vocation-wise, and in irregular life situations, Joan is a constant reminder that God's plan is constantly unfolding for us, and that He will use us in the most unexpected ways for the gratification and inspiration of some, and for the challenge of others.
Prayer for the Intercession of Saint Joan of Arc
Dear Sweet Patron Saint,
I implore you in the name of God to intercede on my behalf and guide me. Help me to be strong when people are against me and question my belief in God. Help me to stand by my faith and my decisions concerning my faith. I wish to do only God's will, and I beg of you, O Patron Saint, to help keep me on His true path, and guide me in His will. I need friends now, more than ever before, and I choose God as my first and foremost best friend, above all others. But I also choose you as a close and special friend to relate to and to talk to. Please counsel me by any means necessary that is in the will of God to do.
Please let me have the wisdom and understanding to receive His message and the patience and virtue to listen so that I may understand His word.
Saint Joan,

Pray for us.
Amen.
Saint Stats:
Born: January 6, circa 1412
Died: May 30, 1431
Beatified: April 18, 1909
Canonized: May 16, 1920
Feast Day: May 30
Patronage: France, martyrs, people ridiculed for their piety, soldiers